If you are coming to Rio de Janeiro in June, join us at our event Forests: The 8th Roundtable at Rio+20. Among the line-up of panellists discussing new research findings and policy implications for integrating forests into sustainable development challenges are Izabella Mônica Vieira Teixeira, Minister of Environment of Brazil; Bård Vegar Solhjell, Minister of Environment of Norway; Carlos Nobre, Director of the Center for Earth System Science, National Institute for Space Research of Brazil; and Ruth DeFries, Professor of Sustainable Development at Columbia University. Only a few seats are left so we urge you to register now.
The past month has seen 820 members (and counting) post more than 100 comments on the Rio+20 Forests Dialogue co-facilitated by CIFOR that aims to contribute fresh ideas on the important role forests play in achieving sustainable development. The dialogue has now entered the recommendations drafting phase and we need your help to ensure that the most important forest messages reach heads of state at Rio. For more information on how to support the recommendations, or to draft your own, click here. Drafting will continue until Sunday June 3, when the recommendations that receive the most support will be transferred to a public website for voting.  If you have any difficulties in posting your contribution or accessing the dialogues, please contact Michelle Kovacevic.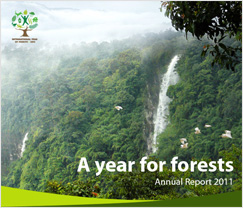 CIFOR has released its annual report for 2011, highlighting its research and impact in relation to forests and climate change across the globe during the UN-designated International Year of Forests. Director General Frances Seymour writes, "CIFOR now has about 200 staff, complemented by many associates, partners and consultants, who are carrying out forest-related research in some 20 countries. We have a growing number of high-profile global comparative research projects at various stages of completion that are generating new knowledge and impact consistent with our mission. We have significantly enhanced CIFOR's presence on the global stage through increased investment in communications." To learn more, download our annual report here.
"When you're climbing a mountain, you sometimes need to pause and look down to see how far you've ascended," said Frances Seymour, CIFOR Director General, at her farewell luncheon held in Jakarta last week. Her valedictory speech, made ahead of stepping down as Director General after 6 years working with the organisation, reflected on her past 25 years in the forestry sector and looked at some of the challenges still ahead. For a full transcript of her speech and to watch her farewell video, click here.
Related blogs:
To better bring you the latest information on new research findings, opinion articles from our scientists and other news, we have re-designed our Forests News blog. We have new stories and other posts almost every day. Please take a moment to let us know what you think of the blog by completing this short questionnaire.
Taxonomy usually refers to the theory and practice of describing, naming and classifying living things... yet the science behind delimiting the natural world into 'species' is often neglected, misunderstood or even derided in some quarters, says CIFOR scientist Terry Sunderland in this Science Dispatch. Drawing from an example of taxonomic work on Africa Rattan, he argues that taxonomy provides the foundation of conservation practice and is vital for the sustainable management of the world's remaining resources, especially to meet current global biodiversity challenges. 
Related CIFOR publications:
Indonesia should continue to improve forest governance in the second year of its moratorium on new forestry concessions if the ban is to have a significant impact, said senior CIFOR scientist Daniel Murdiyarso in this blog, marking the half way point of a two-year moratorium on new logging permits for primary forest and peatlands, issued by the Indonesian President in May 2011. Reflecting on the progress and the challenges ahead in a video interview, Murdiyarso said, "We have to manage forests differently, and that needs a lot of change, in terms of people's mindset, the organisation, the institutions, the rules and regulations – there are a lot of things to be done."
Related publications:
Developing countries will not be incentivised to change business-as-usual practices and invest in REDD+ schemes until there's certainty that the financial rewards that have been used to promote the forest carbon mechanism will materialise in the future, said experts at the sidelines of the climate change talks in Bonn. "Cash is king," said Maria Brockhaus, CIFOR scientist, at a side event held alongside the meetings of the UNFCCC's Subsidiary Bodies, "The prospect of REDD+ financing is already a game changer. But there needs to be certainty on what forested nations will receive under REDD+."
More blogs from Bonn:
ICLEI World Congress 2012
14 – 18 June 2012, Rio De Janeiro, Brazil. more
Forests: The 8th Roundtable
19 June 2012, Royal Tulip Hotel, Gavea Room, Rio de Janeiro, Brazil. more
UN Conference on Sustainable Development (UNCSD)
20 – 22 June 2012, Rio De Janeiro. more
IUFRO-FORNESSA Africa regional congress
25 – 30 June 2012, Nairobi, Kenya. more
2012 NCCARF National Adaptation Conference
26 – 28 June 2012, Sebel Hotel Abert Park, Melbourne. more