CIFOR works with numerous research partners and research users to achieve its purpose: to advance human well-being, environmental conservation and equity by conducting research to inform policies and practices that affect forests in developing countries. This page lists CIFOR's various achievements around the world.
Supporting the Indonesian government in establishing an MRV system
CIFOR has worked closely with technical staff from the Indonesian Ministry of Environment and Forestry to develop and pilot an MRV framework for the land use sector, including REDD+ activities. The framework was endorsed in 2015 as the Indonesian National Carbon Accounting System (INCAS), which will be used to generate national results of net GHG emissions estimates for reporting to the UNFCCC at COP 21 in Paris.
Facilitating the legalization of smallholder timber trade in Peru
Rural residents in the Peruvian Amazon manage and harvest timber that grows naturally on their landholdings. Fast-growing species, such as bolaina (Guazuma crinita), which provides low-cost building material, serve as a reliable source of extra income for farmers. However, these rural landholders face problems because cutting and selling the wood legally is expensive and complicated. Therefore, most farmers who produce timber in their fallows sell it through informal channels, resulting in poor positioning in the market and risk of fines and confiscation of their wood by forest authorities.
CIFOR research has documented the value chain, from the management of natural regeneration to the sale of sawn boards, or tabillas, identifying the opportunities and constraints smallholders face. Scientists were involved in drafting a new regulation based on their sustainable timber production and marketing from agricultural systems in the region. Enacted in October 2015, the regulation provides a simplified "management declaration" for timber production in fallow stands, allowing farmers to legally market timber from fallow plots. This policy change, which affects 4.5 million ha and benefiting well over a million people, allows farmers to develop and profit from the value chain.
Promoting sustainable forest management in the Congo Basin
CIFOR's work since 1996 in the Congo Basin has made a necessary contribution to sustainable forest management policies in the region. Since 2004, the changes in policies and practices have led to around 217,000 tons in Cameroon alone and around 730,000 tons of carbon left standing as trees in the region. Read more about our Congo Basin work in this infographic.
Resolving land conflict and improving livelihoods in Indonesia by leveling the playing field
CIFOR research on establishing a more equitable partnership between a community, the local government and a company with regards to a pulpwood plantation in Sumatra has strengthened the negotiating power of local communities, easing two decades of conflict and boosting livelihoods in an extremely poor region. The partnership enabled community members to agree on the distribution of company payments as well as negotiate better timber prices. The company, on the other hand, agreed to offer exclusive plantation operation contracts to local communities with traditional ties to the land, and the local government enacted bylaws to strengthen the partnership. The framework for establishing more equitable partnerships resulting from this study could assist in the development of small-scale community plantations that work in partnership with large oil palm and pulpwood plantations.
Improving the income of small-scale furniture producers in Indonesia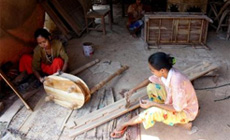 CIFOR conducted participatory action research to help identify the issues and find solutions facing small-scale furniture producers in Jepara. Through the research activities, CIFOR helped establish a producer association and introduced the legality assurance system. These in turn improved the furniture producers' income by moving them up in the value chain, improving access to markets and credit, and improving bargaining with suppliers. Finally, CIFOR scientists and the producers helped the local parliament and government to devise a local bylaw that promotes the use of certified timber and pays more attention to small-scale producers.
Helping the Ecuadorian government to simplify its system for monitoring timber supplies and rethink its approach to forest governance
Smallholder farmers and indigenous communities in the Ecuadorian Amazon fell the trees on their land and sell the timber for extra cash. CIFOR research finds that the farmers choose to rely on the informal timber market networks, which provide greater flexibility and lower transaction costs associated with legality. These findings are now being adopted by the Ministry of Environment to revise its forest governance policies in order to recognize and better integrate the domestic timber sector into the formal economy.
Assisting the Peruvian government in sustainable forest management in the Peruvian Amazon
CIFOR research shows that large areas of forest in Amazon that had been originally allocated for long-term extraction of timber and non-timber forest products are also being titled for farming and mining. The Ministry of Environment and OSINFOR took up these research findings in drafting the new Forests and Wildlife Law.
Supporting West African countries on forest management
The Economic Community of West African States (ECOWAS) invited CIFOR to provide input on the available options for enhanced regional coordination of forest management. In September 2013, the Convergence Plan for the Sustainable Management and Use of Forest Ecosystems in West Africa was formally adopted by ECOWAS.
Enhancing women's rights, decision making and benefits in Uganda and Nicaragua
CIFOR scientists implemented adaptive collaborative management approaches in randomly selected communities in Uganda and Nicaragua in 2010 and 2011. Before the project, only 16 percent of leadership roles were held by women, and none of the six project sites had a female chairperson. After the project, half of the leadership roles were held by women, and four out of the six sites were chaired by women. Overall, the project increased women's confidence, changed the paradigm among men with regards to women's participation and leadership. In addition the project improved coordination between the communities, forestry agents and NGOs.
Boosting livelihoods and conservation through okok domestication in Cameroon
For villagers in Cameroon's central region, the forest creeper known as okok is considered a wonder plant. Okok grows naturally in the Congo Basin rainforest. It climbs the trunks and entwines around the branches of established trees. But the vegetable's soaring popularity in Cameroon has led to concerns about sustainability. CIFOR's research estimates that in Cameroon alone, trade in the okok plant exceeds US$ 12 million each year. CIFOR partnered with the Cameroonian research organization IRAD and a local NGO to develop a trial domestication program in several villages. Nurseries were set up in 2003, villagers were trained and plantations were established. Now, the success of the CIFOR trial has seen okok cultivation programs rolled out across the country, with the Cameroonian government committing around US$ 500,000 per year since 2009.
Scoping out solutions for Zambia's charcoal trade
The charcoal trade in Zambia is strongly linked to deforestation, yet it is a key source of energy and incomes for poor families. For policy makers, addressing the sustainability of the charcoal trade while balancing the needs of people living in poverty has long been a daunting challenge. However, a recent scoping study by CIFOR scientists was well received by key decision makers in Zambia at the national and local levels and could lead to significant changes in policy and enforcement. The study generated robust debate and ultimately led to the Minister of Lands, Natural Resources and Environmental Protection of Ghana requesting a set of action points from CIFOR researchers. CIFOR is now working with the Ministry on the issue.
Role-playing and 3D mapping help communities get involved in landscape planning
Well-intentioned plans are too often abandoned and forgotten when villagers are left out of the land-use planning process. Conversely, by placing a 3D map (complete with familiar landmarks) in the middle of a table and asking residents what they would do as a developer, conservationist or village leader, it suddenly becomes easier to incorporate local views into the process. This role-playing tool, devised by CIFOR scientists and partners, helps village communities see the long-term advantages of careful landscape management. The method was initially tested in 2011 in 28 villages that border the Nam Et –Phou Loey National Protected Area in Laos, one of the few remaining sanctuaries for tigers in the country. 3D mapping has since been picked up by 10 different districts and is being implemented in about 300 villages. The results, so far, are very promising. In the past, villagers often ended up implementing plans that they did not understand and that were doomed to fail. When leaders from all of the local villages are in the same room together, demarcating their borders on the 3D maps, they are able to resolve territorial disputes and arrive at a group consensus.
Bringing logging companies in line with FSC certification standards in the Congo Basin
CIFOR research in the Congo Basin analyzed the certification for forest products and found that government standards are often less stringent than those from the Forest Stewardship Council (FSC) – and that logging companies adhered to standards which fell somewhere between the two. CIFOR's findings contributed to calls by NGOs for a moratorium on FSC certification of industrial-scale logging in the Congo Basin. The FSC responded by conducting an audit of all certified companies. As a result, a number of firms have already started to adapt their management plans to bring them into line with FSC standards. In addition, CIFOR is working to ensure that all of the certifying bodies used by the FSC base their assessments on the same standards when evaluating logging companies.