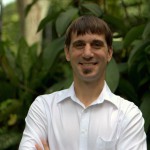 Director of Research and Project Development, Daemeter Consulting
Gary is co-founder and Director of Research and Project Development at
Daemeter Consulting. Gary holds a PhD in Biology from the University of
Michigan in the USA, and has worked and lived in Indonesia periodically
since 1991. He is currently residing in northern California, managing and
developing Daemeter's US office.
Gary has conducted original research on the basic ecology of lowland rain
forests in Sumatra and Kalimantan, studying influences of soil and
geology on species composition and ecosystem dynamics, as well as the
development of novel biodiversity survey methods. He is a specialist on
trees in the Dipterocarpaceae, and a leading expert in the identification
and management of High Conservation Value (HCV) areas. Gary also leads
Daemeter's established program in research, training and outreach with
diverse stakeholder groups to promote sustainable palm oil.
Along with Aisyah Sileuw, Gary led the national initiative to revise the
HCV Toolkit for Indonesia, completed in 2008. He has authored numerous
peer-reviewed publications and public domain reports, and regularly
presents his research and professional experiences at conferences around
the world.